The Lions Swim Academy is a partnership between Camp Asia and Stamford Lions Swim Academy who have developed a new training program that will run on Saturdays and Sundays at Stamford American International School (Woodleigh).
Stamford's Swim Academy is run by a vastly experienced aquatics team that comes with the promise of high-quality coaching and a progressive pathway for all participants.
Lions Swim Academy utilizes the Swim School International (SSI) teaching system, and combines it with the Stamford coaching team's own knowledge, to deliver 2 exciting and innovative programs: "Learn to Swim" and "Learn to Train".
The programs are overseen by Stamford's Aquatic Director Paul Dowey and program manager Heikal Mubarah, along with a team of hand-selected coaches.
Learn-to-Swim Program (Sat + Sun):
Learn-to-Swim sessions place a great emphasis on 'waterproofing' children so they can be safe in a recreational setting, with the ultimate goal of helping participants progress through to the Learn to Train program where they can begin developing competitive strokes and skills.
The Learn-to-Swim instructors are trained to work with preschool through to advanced swimmers and have all been trained in First Aid and CPR with many of them having additional lifeguard experience.
Learn-to-Swim currently caters to Preschool, Beginners, Intermediate and Advanced levels, as shown on the graphic below.
Learn-to-Train Program (Sat only):
Learn-to-Train is the stepping stone from Learn-to-Swim lessons into more regular, intensive training. There are three levels: Elementary Development, Elementary Potential and Elementary Performance.
ES Development: Able to complete 25m repetitions. It involves teaching competitive strokes and turns, as swimmers become familiar with training in a larger group format and are beginning to compete. These swimmers are typically training 2 or more times per week.
ES Potential: Competent in 25m of all four strokes and completing 50m repetitions. Participants will sharpen their skills with a focus on starts, turns and kicking skills. These swimmers typically train 3 or more times a week.
ES Performance: Understanding of interval training, training at different effort levels and speeds, and incorporating race strategies. These swimmers are typically committed to longer practice sessions and regular attendance to meet the physical demands of a competitive swim squad.
Lions Swim Academy Pathway: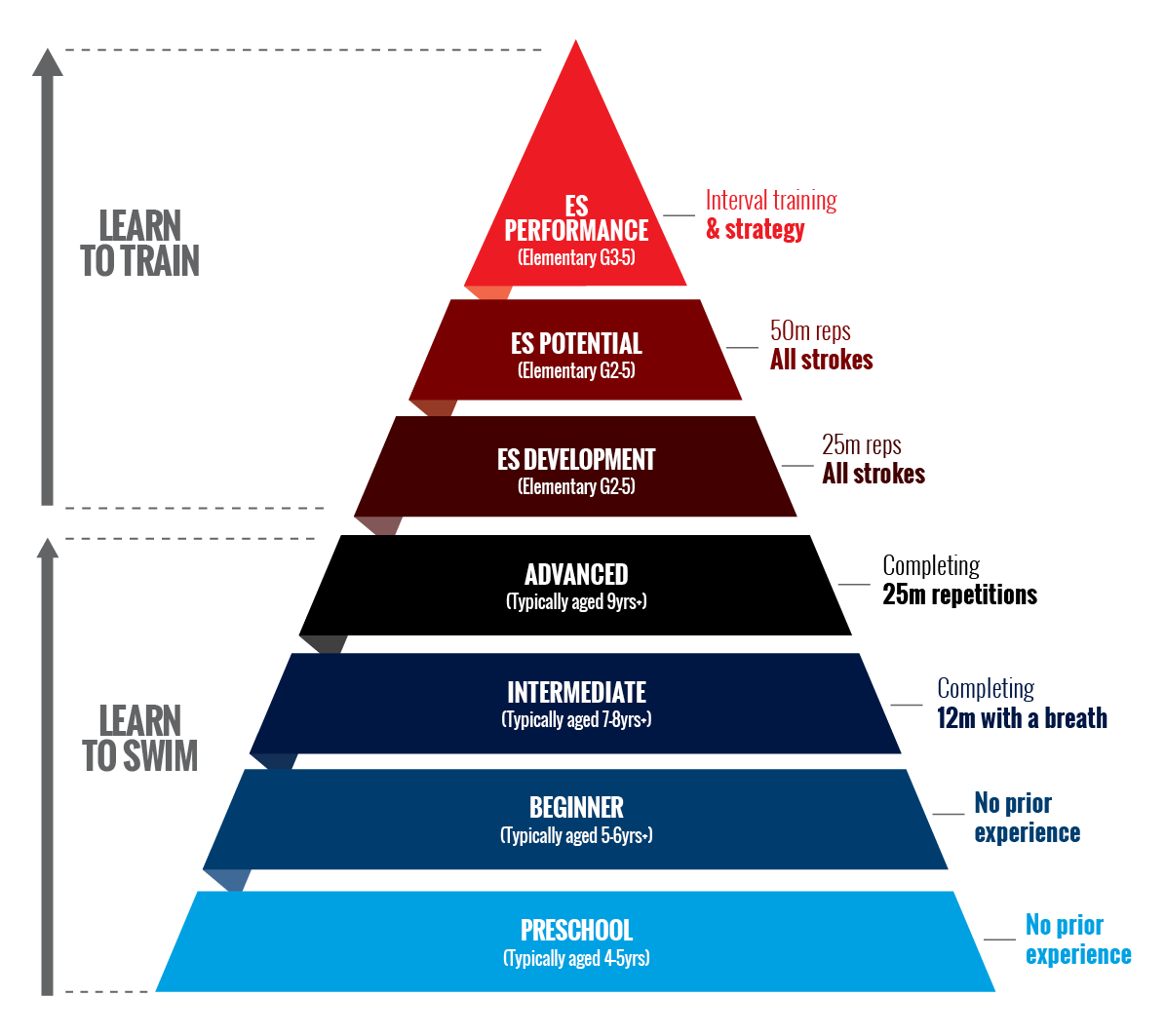 Participants will work with their instructor towards specific 'Final Goals' with regular 'Checkpoints' that we will provide as feedback to parents each Term.
*If your child is younger than 4 or older than 12, please contact the bookings team to discuss options!