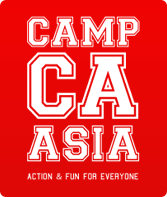 Camp Asia Academy is the sister brand to the no.1 holiday camp provider in Singapore, Camp Asia. Camp Asia run camps at both Stamford American International School and the Australian International School during school holiday periods. We are very proud of the fact that each year, thousands of children attend our weekly camps, experiencing anything from Super Soccer to Super Chef to Lego Robotics. All camps are designed to be fun and action-packed to keep children entertained during the school breaks.
Take a look at the list below to see all the camps available:
Multi-Activity (age 3 through 8)
A fun-packed day, full of different activities including arts & crafts, sports and performing arts
Super Sports (ages 6 through 16)
A activity-packed camp for your junior sports fan, including soccer with Real Madrid Foundation Football School, Basketball, Tennis, Swimming and more
Super Soccer (ages 6 through 16)
A unique opportunity to train and play like the champions with Real Madrid Foundation Football School
Super Gymnastics (ages 4 through 10)
Children will learn to flip, twist, tumble and somersault their way towards agility, confidence, good health and great fun
Super Basketball (ages 6 through 16)
This camp is designed for children of all abilities to enjoy the ultimate basketball experience and learn to shine on the court
Super Chef (ages 6 through 16)
Exploring the fascinating (and delicious) world of food, gaining kitchen confidence and as a finale – entertaining you, the parents!
Mad World of Science (ages 6 through 11)
Fun, excitement and educational - for junior scientists with an enquiring mind
Creative Computing (Ages 6-16)
Using various programming platforms and coding technique to explore digital story-telling, computer game design and mobile app development!
Electronic MakerSpace (Ages 6-16)
From electrical circuits to telecommunication technologies - children will learn about (and build their own) high-tech equipment.
Math Mania (ages 6 through 11)
Whether your child is already a math whiz or needs a booster for the next school year - this camp is for them
Aviation (ages 6 through 11)
Inspiring aviators of the future. Uncover the past, present and future of flight and enjoy a hands-on experience with planes, drones and flight simulators!
Lego Robotics (for ages 6 through 11)
Building, programming and testing models and robots is fun with the world's favourite construction toy
Drama Academy (ages 6 through 11)
All aspects of acting, creativity and choreography, culminating in a live performance for an audience at the end of this fun-filled week
Parkour (ages 7 through 11)
There's a new way to get around. Singapore may be a concrete jungle, but kids can make it their playground through strength, agility and fearlessness!
Passion for Art (ages 6 through 11)
This camp will bring out the artist in your child, teaching about different styles, how to appreciate art and creating their own masterpieces
Magic (Ages 6-11)
For those who love to entertain! Wow your friends and family with a new bag of tricks. Children will expand their creative minds through Magic.
Mini Mandarin (for ages 4 through 8)
What an important language. Taught by native speakers
Drones (for ages 6 through 11)
Child will get to explore the exciting world of Drones, learning about programming and real-life applications with plenty of hands-on piloting time!
For more information please visit the website: www.campasia.asia